September 18, 2007 at 9:11
Comments Off on 2007.09.11 Three screen beauties back in the news – Return of Little Dragon Girl: Idy Chan
andy lau, atv, chow yun fat, gba, hk10scenes, mingpaoweekly, roch1983, tvb
[Extract from The Electronic New Paper] These classic Asian beauties, who hogged TV screens in the '70s and '80s, retired at the peak of their careers to get married. But they've all been in the spotlight recently, reports AVIS WONG

She was once known as Hong Kong's Marilyn Monroe.
But the pictures we have seen of Cherie Chung recently were not those of a glowing beauty. They were those of a grieving widow.
Cherie, 47, lost her husband of 16 years to cancer on 24 Aug.
Though friends worry about her health, she has retained her elegant composure, at least in public.
The classic beauty was third runner-up in TVB's Miss Hong Kong pageant in 1979 and made her film debut in Johnnie To's first film, The Enigmatic Case, the following year.
She went on to star in more than 50 movies, working with many top leading men, most notably Chow Yun Fat and Leslie Cheung in her last film, Once A Thief, in 1991.
She retired to marry advertising guru Mike Chu, who is best known for his creative work in the Titus watch commercials and for creating Titus' famous Chinese tagline: 'I don't care for eternity, I only care for the moments we once shared.'
After marriage, she was active in charity work, especially in promoting environmental protection.
Aside from a few select endorsements, she turned down all acting offers as she wanted to lead a peaceful, normal life.
But in February this year, tabloid pictures of the couple revealed a thin and gaunt-looking Mike.
In May, Cherie was spotted taking her 53-year-old husband – who looked to have lost 20kg and donned thick clothing despite the hot summer weather – to a traditional Chinese clinic and to see a qigong master.
Despite rumours that he had colon cancer, Cherie kept giving the excuse that he was on a diet.
The two have no children but shared a loving relationship and were considered a model couple in showbiz.
A Taiwanese friend reportedly said: 'Cherie once told her husband that she would still want to marry him in her next life.
Mike humorously replied to her, 'Why won't you let me take a break?'. They were indeed a great couple.'
Mike reportedly left HK$50 million ($9.8m) to Cherie.
RETURN OF LITTLE DRAGON GIRL – IDY CHAN
WITH those crow's feet, freckles and slightly pudgy figure, Idy Chan is a far cry from her most famous screen persona, Little Dragon Girl.
After all, it has been a good 24 years since she was catapulted to fame playing the surreal beauty opposite Andy Lau's Yang Guo in the 1983 TVB adaptation of Louis Cha's The Return Of The Condor Heroes.
Idy Chan and Andy Lau in a recent game show on Hong Kong TV
Now 47, Idy has been under the spotlight lately, granting interviews to the Hong Kong media and making public appearances.
Most recently, she promoted an Asia Television Hong Kong travel programme with Athena Chu.
She even walked the red carpet with actor Simon Yam at the 12th annual Golden Bauhinia Awards on 1 Sep and presented the Best Actress award.
Her recent appearances begged the question: Is she returning to showbiz?
It has been 14 years since she retired from the scene.
Idy told the Hong Kong media: 'I never thought about quitting acting before. Now, I don't know whether I will act or not either. I'll just let things run their natural course.'
She told Ming Pao Weekly that she's interested in acting again, but kissing and intimate scenes are out.
Idy married casino executive Peter Chan Siu-Moo in 1984 at the height of her career and settled in New York.
Even though the couple divorced in 1992, she remained inactive in showbiz, only making the occasional appearance on TV shows in China and Hong Kong.
She was also an active charity volunteer.
Then in 1999, she was rumoured to have secretly married 1980s singer Louis Castro after she told the media that she has been seeing a mysterious 'tall, gentle and caring' man for five years.
But soon, the paparazzi found that she was living with famous advertising director Maisy Choi. According to the tabloids, the female relationship lasted 11 years, ending in 2005.
Once known for her icy and sullen image, Idy is now chatty and more adept at dealing with the media.
'Many reporter friends tell me they had wanted to slap me in the past because I didn't know how to answer their questions and had always put on a black face then.
'But they just loved asking me about Chow Yun Fat, so what could I have said?' she told Ming Pao Weekly.
She and Yun Fat had dated for five years – from 1978 to 1983 – during the early days of their TV careers.
Idy has not worked in recent years and it was reported that she struck the lottery twice, winning about HK$17 million ($3million) in Canada, and another HK$30 million in a Hong Kong lotto 11 years ago.
But she told reporters that 'the rumours will stop with the wise'.
DEPRESSED OVER MARRIAGE? – LIN CHING-HSIA [Brigitte]
LIN CHING-HSIA may have retired and been married for 13 years, but the former queen of Taiwanese romance films is still a popular paparazzi target.
And the rumour mill has been churning overtime when it comes to her marriage.
The 53-year-old was recently spotted by the tabloids at the International Financial Centre in Hong Kong with her friends, former Taiwanese actress Hsieh Ling Ling and retired Hong Kong actress Amy Tao.
They had gone to watch Jay Chou's latest movie, Secret, and Ching-hsia had reportedly seen the movie twice.
She looked radiant and happy. But it wasn't always so.
The tabloids had said last year that Ching-hsia had moved out of her marital home in Hong Kong and was staying in an apartment in Kowloon Tong alone.
The reports also said that despite being married to billionaire businessman Michael Ying, she did not have a property or car to her name.
They have two daughters, aged 10 and 6, but the reports alleged that Michael was dating a divorcee from Shanghai and that the woman bore him a son.
When Ching-hsia's father died in May last year, the media noted that the couple had little interaction despite attending the funeral together.
Then, she was purportedly hooked on ballroom dancing and was spotted hanging out at clubs, dancing and having supper with younger men in Hong Kong and Shanghai.
But in March this year, she reportedly moved back home.
Last month, a Taiwanese report said she visited the Hong Kong Mood Disorders Center at the Prince Of Wales Hospital in Shatin, Hong Kong, but friends have denied she is depressed.
[Citation needed for several items in this article, use your own judgment on these stories. Quite coincident that both husbands of Cherie & Brigitte have the same English name & million-/billionaire businessmen]
September 1, 2007 at 21:09
10 Comments
awards, gba, roch1983
Sources: ON.cc / MingPao – Weekly /Ta Kung Pao / Oriental Daily / The Sun / AppleDaily – @ActioNews / SINA / HK-Image: Arrivals / Presenting Awards / TOM / Xinhuanet / QQ
Simon Yam Tat-Wah invited long-time friend Idy Chan Yuk-Lin to the 12th annual HK Golden Bauhinia Awards [GBA] ceremony last night [Sep 1], which was held at Hong Kong Polytechnic University. Simon sincerely wishes that Idy would officially consider returning to acting & hopes to collaborate again with Idy in a modern version of ROCH [love story] movie. It's known that Simon & Idy did work together years ago in a movie called 《麻雀仔》 [I'm looking for the English title and this is totally new information to me] directed by Alfred Cheung 張堅庭. Simon also introduced Idy to the rising young director Edmond Pang Ho-cheung [directed Simon's latest film "Exodus"].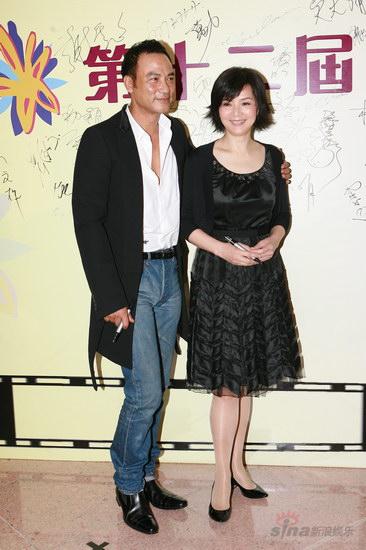 Simon & Idy were also the presenters for Best Actress, which the result confused Idy that she passed to Simon to clarify. Gong Li won the best actress award for her role in "Curse of the Golden Flowers" though she had to share the award with Charlene Choi for "Simply Actor" while Lau Ching Wan won best actor [also which Simon is nominated] for his role in "My Name Is Fame". The best picture award was shared between "Exiled", "A Battle of Wits" and "After This Our Exile". See the rest of other awards results here.

[Probably more accurate translation to come by Kit. Lin Mui looks good next to this Wah Jai too, don't you agree?]
Red Carpet Arrival Video [8:43-minute clip: Simon & Idy posed together with husband & wife pair Lau Ching Wan & Amy Kwok at around 6:39ish on the red carpet, then again between 7:16 to 7:54]. And a shorter ON.cc Video or via google video
Another video highlighted key people & events of the night @ QQ video [It's SO neat to see Simon suggested where he & Idy signed their names on the GBA's souvenir board]
[The friendship between Simon & Idy is new & wasn't known to many of the fans, so check out this old photo of them. Very cute!]